Clients
The following is a partial list of the organizations FireStar has been lucky enough to work with:
ASSOCIATIONS
Alabama Rural Electric Association of Cooperatives
Alabama Society of CPAs
Alliance for Children & Families
American Academy of Professional Coders (AAPC)
American Business Women's Association (ABWA)
American Financial Services Association
American Heart Association
American Payroll Association
American Society of Crime Laboratory Directors
ARMA Triangle Chapter
Arkansas Association for School Business Officials (AASBO)
Associated General Contractors of Georgia
Association Executives of NC
Association for Home & Hospice Care
Association of Horticulture Professionals (OFA)
Association of Legal Administrators
Association of School Business Officials International
Atlantic Coast Exposition (Vending Industry)
Building Industry Association of Central SC
Business Technology Association
CALLERLAB (International Association of Square Dance Callers)
Canadian Home Builders' Assocation
Capital Associated Industries (CAI)
Carolinas AGC
Carolinas Association of Chamber of Commerce Executives
Carolinas Chapter of the American Fire Sprinkler Association
Carolinas Payroll Conference
Carolinas Ready Mixed Concrete Association
Chartered Professionals in Human Resources Manitoba (CPHR)
College and University Professional Association for HR (CUPA-HR)
Commonwealth Association for Financial Professionals
Community Associations Institute (CAI)
Construction Financial Management Association
Cooperative Credit Union Association (CCUA)
Council for the Advancement of Education (CASE)
CSC Network
Cumberland County Apartment Association
The Employers Association
Fayetteville Area Medical Managers Association
Fayetteville Area SHRM
Florida Association of City Clerks
Florida Association of School Business Officials (FASBO)
Florida Society of Ambulatory Surgical Centers
Fox Valley SHRM
Gaston County Personnel Association
Georgia Association of Chamber of Commerce Executives
Georgia Construction Aggregate Association
Georgia Electric Membership Corporation
Georgia Food Industry Association
Georgia Ready Mixed Concrete Association
Georgia Society of CPAs
Grand Strand Hospitality Sales Association
Guilford Medical & Dental Managers Association
Home Builders Association of Fayetteville
Home Care Alliance of Virginia
Hospitality Financial & Technology Professionals (HFTP)
Human Resources Professional Association (HRPA Canada)
Indiana Municipal Management Association
In-Plant Printing and Mailing Association
Independent Insurance Agents of NC
International Association of Diecutting & Diemaking
International Association of Rehabilitation Professionals (IARP)
International City/County Management Association (ICMA)
International Freeze Dry Floral Association
International Health, Racquet & Sportsclub Association (IHRSA)
International Interior Design Association
International Management Council
International Marking and Identification Association
International Operators Council of Choice Hotels
Kentucky Association of School Business Officials  (KASBO)
Kentucky School Boards Association
Legal Marketing Association
Lincolnton Human Resource Association
Louisiana Association of School Business Officials (LASBO)
Lower Cape Fear Human Resource Association
MD & DC Association of School Business Officials (MD & DC ASBO)
Massachusetts Society of CPAs
Meeting Professionals international (MPI)
Metro Atlanta Payroll Association
Mississippi Association of School Business Officials (MASBO)
Missouri Association of School Business Officials (MoASBO)
Municipal Association of South Carolina
National Association of College & University Food Services (NACUFS)
National Association of Educational Office Professionals
National Association of Home Builders (NAHB)
National Association of Legal Assistants
National Association of Professional Background Screeners (NAPBS)
National Association of State Technology Professionals
National Certification Council for Activity Professionals
National TASC
National WIC Association
NC Aggregates Association
NC Assisted Living Association
NC Association for Career & Technical Education
NC Association for Healthcare Quality
NC Association for Long Term Care Facilities
NC Association for Medical Equipment Services
NC Association of ABC Boards
NC Association of Assessing Officers
NC Association of Colleges and Employers
NC Association of County Clerks
NC Association of County Directors of Social Services
NC Association of CPAs
NC Association of Launderers and Cleaners
NC Association of Educational Office Professionals
NC Association of Electric Cooperatives
NC Association of EMS Administrators
NC Association of Free Clinics
NC Association of Governmental Purchasing
NC Association of Health Underwriters
NC Association of Healthcare Resource & Materials Management
NC Association of Independent Schools
NC Association of Insurance Women
NC Association of Municipal Clerks
NC Association of Public Health Nurse Administrators
NC Association of School Business Officials (NCASBO)
NC Association of Volunteer Administrators
NC Apartment Association
NC Automobile Dealers Association
NC Business Incubation Association
NC Chapter of the International Personnel Management Association
NC Chapter Society of Government Meeting Professionals
NC Child Care Health Consultant Association
NC City & County Managers Association
NC Community College Adult Educators Association
NC Community College Faculty Association
NC Community Colleges Foundation
NC Conference of District Attorneys
NC Cooperative Extension Secretaries Association
NC Council of Community Programs
NC Council of Practical Nurse Educators
NC Credit Union League
NC Dental Laboratory Association
NC Government Finance Officers Association
NC Healthcare HR Association
NC Home Builders Association
NC International Association of Forensic Nurses
NC League of Municipalities
NC Licensed Child Care Association
NC Local Government Investment Association
NC Local Government Information Systems Association
NC Main Street and Rural Planning
NC Medical Board
NC Medical Coders Convention
NC Nursery & Landscape Association
NC Nurses Association
NC Outdoor Advertising Association
NC Partnership for Children
NC Permitting Personnel Association
NC Petroleum & Convenience Marketers
NC Pork Council
NC Principals & Assistant Principals Association
NC Professional Car Wash Association
NC Property Mappers Association
NC Public Health Association
NC Public Risk Management Association
NC Recreational Therapy Association
NC Rehabilitation Association
NC Retail Merchants Association
NC Rural Water Association
NC School Boards Association
NC School Social Worker's Association
NC Science Teachers Association
NC Sheriffs' Association
NC Society of Government Meeting Professionals
NC Society of Human Resource Professionals (NCSHRM)
NC Society of Surveyors
NC Sustainable Energy Association
NC Symphony Association
NC Telecommunications Industry Association
NC Theater Conference
NC Treasury Management Association
NC Vending Association
NC Wholesaler's Association
North Dakota Society of CPAs
Northeast Car Wash Association
Northeast Flooring Contractors Association
New Mexico School Boards Association
OH Health Care Association
Organization of Municipal Personnel Officers
PA Society of Association Executives (PSASE)
PA Assisted Living Association
Petroleum Equipment Institute (PEI)
Petroleum Marketers & Convenience Store Association of Kansas (PACE Mid-America Show)
Professional Engineers of NC
Public Relations Society of America
Safety & Health Council of NC
SC Association for Financial Professionals
SC Association of CPAs
SC Association of Cooperative Extension Secretaries
SC Association of Educational Office Professionals
SC Association of REALTORS
SC Association of School Administrators
SC Association of School Business Officials (SCASBO)
SC Early Care & Education Association
SC Home Care & Hospice Association
SC School Boards Association
SC Society of Association Executives
SC Utility Billing Association
Society of Louisiana CPAs
Southeast Car Wash Association
Southeastern Affordable Housing Management Association
Southeastern Association of School Business Officials (SASBO)
State Employees Association of NC (SEANC)
Surry County Personnel Association
Tennessee Association of Mental Health Organizations (TAMHO)
Tennessee Association of School Business Officials (TASBO)
Tennessee Society of CPAs
Training Officers Consortium
Triangle Apartment Association
VA Association of Chamber of Commerce Executives
VA Association of Durable Medical Equipment Companies
VA Association of School Business Officials (VASBO)
VA Association of School Superintendents (VASS)
VA, MD & DE Electric Membership Cooperative
VA Society of CPAs
WA Association of Maintenance & Operation Administrators (WAMOA)
WA Association of School Business Officials (WASBO)
West Virginia Association of School Business Officials (WVASBO)
Winston-Salem SHRM
Women in Cable & Telecommunications
Women in Construction
CORPORATE
ABB Inc.
AccuMED
ADP (Automatic Data Processing)
Airgas
Allscripts
Alternative Board
Altria
Apartment Finder
ArvinMeritor/Purolator
Atlantic Avenue Orchid & Garden
Autobell Car Wash
Belton Industries
Blue Cross Blue Shield
Brady Trane
Briggs & Sons Tire
C.R. Onsrud
Cameron Village
Car Wash Services of the Southeast
Carolina Cotton Works
CertainTeed
Complete Purchasing Services, a division of Aramark
Concord Engineering & Surveying, Inc.
Copiers Plus
CopyPro
Corning
Choice Hotels
CNH America
Continental Tire
Cumulus Broadcasting
Daughtridge Gas & Oil
Duer/Carolina Coil
Eagle Certification Group
E.J. Pope & Son, Inc.
Epting Distributors
Executive Personnel Group
EXPO ATL
EXPO NC
EZ-GO
Fairway Outdoor Advertising
Fayetteville Observer
Ferguson (Women's Resource Conference)
First Carolina Management
Forsyth County Club
Furniture First
G&B Energy
Galaxy Food Centers
The Generation Companies
Georgia Pacific
HelmsBriscoe
Hilton
Holt Oil Company
Hospitality Mints
The Hotel Group
IBM
ISB Canada
J.T. Davenport & Sons, Inc.
Jimbo's Jumbos/Hampton Farms
Kindermusik International
Kioti Tractor
Komet
L'OREAL USA
Landmark Hotel Group
Lenzy Hayes Inc. & Hayes Gibson International
McDonald's
MedCost
Mega Force Staffing Services
Merchants Distributors Inc. (MDI)
Merchants Metals
Mutual of Omaha
Myers & Chapman, Inc. – general contractors
NACCO Materials Handling Group
NC Granite Corporation
Old Dominion Freight Lines
On-Line Publishers
Optima Engineering PA
PAGAS Mailing Services
PeopleAdmin
Pepsi
PHTS Risk Management Services
Piedmont Fiberglass
Pink Elephant
Plote Construction
Pool Professionals
Potash Corporation
Primo Water
Quality Oil
Ragan Communications
Red Hat
Renaissance Executive Forums
RTI International
Robert Half
Rountree Plantation
Sapp Brothers, Inc.
SAS Institute
Sandia National Laboratories
Schnabel Engineering
Short Stop Food Marts
Simplify Compliance
SoftPro
Southern Corrosion
SREE Hospitality
Stafford Cutting Dies
Steel Technology
Subway
Surgical Information Systems
Systel
T. A. Loving Company
Terminix
Timberpeg
Time Saver Food Stores
Trane Technologies
Tredegar Corporation
Tweetsie Railroad
Up & Coming Weekly Community Newspaper
Veolia/Kruger
Vulcan Materials
Waste Industries
West Construction
Westminster Company
Wilson Daily Times
Womack Electric Supply
Wyeth
York Oil Company/Neighbors Stores
MEDICAL & HEALTHCARE
American Academy of Professional Coders (AAPC)
American Board for Certification in Orthotics, Prosthetics & Pedorthics
Appalachian Regional Healthcare System
BlueDot Medical
Cape Fear Diagnostic Imaging
Cape Fear Valley Health System
Carolina Case Management & Rehabilitation Services
Carolina Imaging
Carolina Oncology Nursing Society
CarolinaEast Medical Center
Carolinas Healthcare System
Carroll Pharmacy
Chowan Hospital
Dermatology Laser & Vein Specialists
Duke Health
Durham Radiology
Eastpointe
Essentially Women Group Purchasing Organization
Eye Care Associates
Family Home Health Services
Five County Mental Health Authority
High Country Health Network
Hospice & Palliative Care Cleveland County
Hospice of Catawba County
Hugh Chatham Memorial Hospital
Just You Mastectomy Care
Kerr Drug
Legato Medical Systems
Maria Parham Medical Center
Medical Services of America (MSA)
Mission Hospital
Mountain Area Health Education Center (MAHEC)
Piedmont Behavioral Healthcare
Pitt County Memorial Hospital
Premier Women's Health
Revenue Integrity Symposium
Roane Hospital
Roanoke-Chowan Hospital
Roland C. Lingle, D.D.S.
Sandhills Regional Medical Center
Southeastern Center for Mental Health/Developmental Disabilities/Substance Abuse
Springs Memorial Hospital
Summit Healthcare Regional Medical Center
Tar Heel Home Health/Gentiva
Tri-County Community Health Center
University Health Systems
Wake Forest Baptist Medical Center
TELECOMMUNICATIONS/UTILITIES       
Ben Lomand Communications
Black Hills Power
Blue Ridge EMC
Brunswick EMC
CenturyLink
Cingular
Comporium Communications
Habersham EMC
Halifax EMC
Mecklenburg Electric
Microspace Communications
Mid-Atlantic Broadband
Nortel
Old Dominion Electric Cooperative (ODEC)
Ohio Rural Electric Cooperatives
Peace River EMC
Pee Dee Electric
Ramcell
Rappahannock EMC
Roanoke EMC
Rock Hill Telephone Company
SCANA
Shentel
Sprint
SunCom
Surry Telephone Membership Corporation
Time Warner Cable
Tri-County EMC
UNC TV
Verizon Wireless
BANKING & FINANCE
AgCarolina Farm Credit
Allard Insurance
Allegacy Federal Credit Union
American Heritage Life Insurance
Bank of America
BB&T
Cape Fear Farm Credit
Carolina Collegiate Federal Credit Union
Carolina Mountains Credit Union
Central Carolina Bank
Coulee Dam Federal Credit Union
ElecTel Credit Union
Federal Financial Services
The Farm Credit Associations of NC
First Carolina Corporate Credit Union
First Citizens Bank
FNB Southeast
Fort Bragg Federal Credit Union
Heartland Credit Union Association
KY Farm Bureau Insurance
Local Government Federal Credit Union
Merrill Lynch
Mountain BizWorks
Nationwide Insurance
Navigator Credit Union
NC Farm Bureau Insurance
North State Bank
Prudential Financial
RTP Federal Credit Union
RBC Centura Bank
Republic Finance
Revenue Integrity Symposium
Select Bank & Trust
State Employees' Credit Union
SC School Boards Insurance Trust
Source4 Financial Services Group
SRP Federal Credit Union
SunTrust Bank
Team & Wheel Federal Credit Union
TN Credit Union League
TowneBank Mortgage
Truliant Federal Credit Union
United Bank
United Guaranty Corporation
USAA
Wachovia
Women in Financial Services
Walker Insurance Group
Wells Fargo
Whitesell Financial
Wisconsin Credit Union League
PROFESSIONAL SERVICES
Blackman & Sloop, CPAs
Cherry Bekaert, LLP
Clifton & Singer, LLP
Deloitte
Deloitte Tax LLP
Gould Killian CPA Group, PA
Greer & Walker, LLP
Hahn Loeser & Parks
Harvell & Company
Haynes Strand & Company, PLLC
Isaacson Isaacson Sheridan Fountain & Leftwich, LLP
Jackson Thornton
Martin Starnes & Associates, CPAs, PA
McAngus Goudelock & Courie, LLC (MGC Law)
Potter & Company, PA
Poyner& Spruill, LLP
RSM McGladrey
Smith Debnam Law Firm
Smith Leonard
Turlington and Company, LLP
Umbaugh
Ward & Smith, PA
Young Moore Attorneys
REAL ESTATE
Asheville Home Builders Association
Building Industry Association of Central SC
Canadian Home Builders' Association (CHBA)
Centrex Properties, Inc.
Community Management Association Services
ERA Strother Real Estate
Eller Residential
Greater Birmingham Home Builders Association
Henderson Properties 
Hills Real Estate
Hilton Head Area Home Builders Association
Intracoastal Realty Corporation
Lake Norman Realty  
Lakes Region Board of REALTORS
Middleburg Management
National Association of Home Builders
New Hampshire Association of REALTORS
OrleansHomes
Pinehurst Area Association of REALTORS
Pinehurst-Southern Pines Area MLS
Riverstone Communities
SC REALTORS
Weichert REALTORS
Wilmington Regional Association of REALTORS
EDUCATION
Alamance-Burlington School System
Anson County Schools
Appalachian State University
Bethel-Hanberry Elementary School
Campbell University
Catawba County Schools
Charlotte-Mecklenburg Board of Education
Chester County Schools
Clarendon School District Two
Cumberland County Schools
Dinwiddie County Public Schools
Dixon Elementary
Dorchester Schools
Duke Clinical Research Institute
Duke University
East Carolina University
The Episcopal Day School
Fayetteville State University
Gaston Day School
Gaston Public Schools
Granville County Schools
Granville Education Foundation
Hardeman County Board of Education
Harnett County Extension & Community Association
Henderson County Public Schools
Hertford County Schools
Hickory City Schools
High Point Christian Academy
Hubbard Elementary
Johnston County Schools
Laurens County Schools
Longleaf Middle School
Madison County Schools
Meredith College
Methodist College
Midlands Tech
Midwest Alliance for Professional Learning & Leadership
Moore County Schools
Newton-Conover City Schools
NC Center for Applied Textile Technology
NC Department of Public Instruction
NC State University
NC State University Cooperative Extension
O'Neal School
Onslow County Schools
Orangeburg County School District
Pennsylvania State University
Person County Board of Education
Pleasants County Schools
Princeton University
Randolph Community College Foundation
Richland School District Two
Sault College (Canada)
State College of Florida
Union County Public Schools
UNC Chapel Hill
UNC Charlotte
UNC Pembroke
University of South Carolina
Vance Charter School
Virginia Tech
Wake County Public School System
Wake Forest University
West Craven Middle School
Western Region Education Service Alliance
Williamsburg-James City County Public Schools
Wilson NY Central School District
Wilson County Schools
Winstead Avenue Elementary School
York School District One
*Almost every community college in the NC System
GOVERNMENT & MUNICIPALITIES
Albemarle Commission
Cabarrus County Social Services
City of Goldsboro
City of High Point
City of Lincolnton
City of Wilson
County of Anson
County of Buncombe
County of Chatham
County of Cumberland
County of Durham
County of Johnston
County of Moore
County of Person
County of Scotland
County of Stanly
County of Wake
County of Wilkes
County of Yadkin
Cumberland County Public Library
Cumberland County Workforce Development
Durham County Department of Social Services
Federal Prison at Seymour Johnson AFB
Housing Authority Charlotte
Mecklenburg County Department of Social Services
Mecklenburg County Financial Services Department
MI Office of the Auditor General
MN State Auditor
NC Department of Cultural Resources
NC Department of Health and Human Services
NC Department of Labor
NC Department of Public Instruction – Div. of School Business
NC Department of Transportation
NC Employment Security Commission
NC Housing Finance Agency
NC Laboratory of Public Health
NC Nutrition Services Branch
NC Office of Healthy Carolinians
NC Office of Personnel – NC Flex
OK State Auditor & Inspector
Randolph County Department of Mental Health
Randolph County Health Department
SC Department of Transportation
SC Office of the State Auditor
SC State Housing Finance and Development Authority
Scotland County Department of Social Services
Scotland County Schools
State of Arizona WIC Program
State of Connecticut WIC Program
State of Georgia WIC Program
State of New Jersey WIC Program
State of New York WIC Program
State of Massachusetts WIC Program
Statesville Housing Authority
Suffolk Early Childhood Development Commission
Surry County Health & Nutrition Center
TN Comptroller of the Treasury
Town of Angier
Town of Cary
Town of Holly Springs
Town of Matthews
Town of Mooresville
Town of Newton
Town of Wake Forest
Town of Waynesville
US Bankruptcy Court
US Department of Homeland Security
US Probation Office
VA Auditor of Public Records
Village of Pinehurst
Wilkes County Health Department
Wilson County Department of Social Services
MILITARY
Cadet Command (U.S. Army)
Camp LeJeune Auxiliary
Camp LeJeune OWC
Ft. Bragg MWR
G.E.M.S. Spouses Group, Ft. Bragg
L.I.N.K.S. Spouses Group, Ft. Bragg
Seymour Johnson AFB
US Air Force
US Army
US Army ROTC
US Army Special Operations Command
CHAMBERS OF COMMERCE
Alamance County Chamber of Commerce
Apex Chamber of Commerce
Association of Chamber of Commerce Executives
Blowing Rock Chamber of Commerce
Boone Area Chamber of Commerce
Business High Point Chamber of Commerce
Cabarrus Regional Chamber of Commerce
Catawba County Chamber of Commerce
Carolinas Association of Chamber of Commerce Executives
Columbia County Chamber of Commerce
Dunn Area Chamber of Commerce/Leadership Harnett
Greater Aiken Chamber of Commerce
Greater Greensboro Merchants Association
Greater Jacksonville Chamber of Commerce
Greater Smithfield-Selma Chamber of Commerce
Greater Tyrell Chamber of Commerce
Greensboro Chamber of Commerce
Edmond Chamber of Commerce
Fayetteville Area Chamber of Commerce
Jackson County Chamber of Commerce
King County Chamber of Commerce
Lumberton Area Chamber of Commerce
Moore County Chamber of Commerce
Mt. Airy Chamber of Commerce
New Bern Area Chamber of Commerce
New Brunswick Chamber of Commerce
N. Myrtle Beach Chamber of Commerce
PA Association of Chamber Professionals
Prince William Chamber of Commerce
Rowan County Chamber of Commerce
Roxboro Area Chamber of Commerce
South Carolina Chamber of Commerce
Southport-Oak Island Chamber
Stanly County Chamber of Commerce
Statesville Chamber of Commerce
Virginia Association of Chamber of Commerce Executives
Wake Forest Chamber of Commerce
Washington County Chamber  of Commerce
Wayne County Chamber of Commerce
Wilmington Chamber of Commerce
York County Regional Chamber of Commerce
ECONOMIC DEVELOPMENT ORGANIZATIONS/CVBS
Centralina Council of Governments
Centralina Workforce Development Board
Fayetteville Area Economic Development Corporation
Goldsboro/Wayne County Travel & Tourism
Isothermal Planning and Development Commission
Lumberton Area Visitors Bureau
Visit Hershey & Harrisburg
NOT FOR PROFIT
Alamance Partnership for Children
The Arc of NC
Ashe County Partnership for Children
Better Health of Cumberland County
Caldwell County Smart Start
Carobell, Inc.
Catholic Family Center
Cherokee Nation Child Care Resource Center
Child Care Connections of Cleveland County
Children's Council of Watauga
Choanoke Area Development Association
Civitan
Coastal Community Action, Inc.
Cooperative Extension – North Central Leadership Conference
Craven Smart Start
Cumberland County Partnership for Children
Day of Excellence
Downeast Partnership for Children
Ducks Unlimited
Engineering World Health
Epsilon Sigma Phi
Family Conservancy
Franklin Granville Vance Partnership for Children
Friends of Mountain History
Girl Scouts
Grandfather Mountain
Guilford Partnership for Children
Hoke Reading/Literacy Council
I-CARE
Jr. League of Fayetteville
Jr. League of Greensboro
Jr. League of Moore County
Lutheran Services Carolinas
Marion Downtown Business Alliance
Masonic Home for Children
Missouri Child Care Resource & Referral Network
Missouri Main Street
Moore County Literacy Council
National Smart Start Conference
NC Child Support Council
NC Farm Bureau
NC Foundation for Nursing
Onslow County Partnership for Children
Partnership for Children of Cumberland County
Partnership for Children of Johnston County
Penick Village
RHA Health Services
Robeson County Partnership for Children
Rutherford Life Services
Sampson County Partnership for Children
Shenandoah Valley Parents of Multiples Club
Southmountain Children & Family Services
Triangle Relocation Council
Union Symphony Society
United Church Homes & Services
VA Farm Bureau
Yadkin Valley Economic Development District Head Start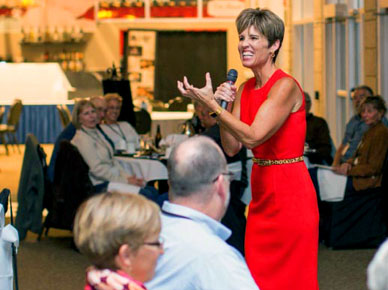 Denise gets an audience fired-up and ready for a corporate event.
In their 2015 poll, Meetings & Conventions magazine asked meeting professionals,
"Who is the single best speaker you have heard in the past two years?"
Here are some of the names:
George W. Bush
Condoleezza Rice
Bill Clinton
Daniel Pink
Anderson Cooper
Patrick Stewart
Diana Nyad
And Denise Ryan!!!!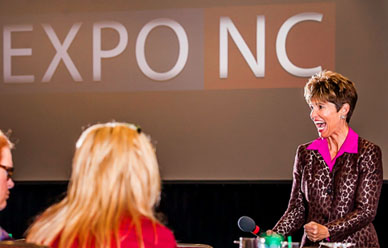 Denise brings enthusiasm to the EXPO NC conference.