Seminars
FireStar has a wide variety of seminars available. Please click on each subject below to learn more about how we can help you and your company achieve success.
Motivation
Setting Yourself on Fire! No Matter What
One of the greatest challenges we all face is keeping ourselves motivated. This is particularly difficult and extremely important with our fast-paced high responsibility jobs today. It's easy to lose enthusiasm and get burned out, stressed out, and finally – checked out. This high-energy session gives attendees six steps for getting the fire back in their lives professionally and personally. The role of attitude is explored in detail with lots of tips on how to keep yours positive regardless of what life throws at you. The importance of goals is discussed as well as identifying and confronting your fears.  Attendees will develop a customized action plan to get them started.  After this session, you'll be able to figure out what's holding you back from having everything you want out of life.  And you'll be ready to take on the world!
Motivation by Chocolate
This session features two things everyone likes – chocolate and motivation!  It teaches nine key motivational concepts that can help participants get more out of every day – both personally and professionally.  They'll learn about persistence, passion, effective allocation of resources, the law of diminishing returns, and much more!  The session includes a chocolate tasting to demonstrate not only how to appreciate chocolate, but life itself.  Attendees will also learn about the communication styles of the world's best chocolate makers and determine their own style.  They can use this insight to better relate to others.  (This session is also great for teams that need a little building.)  All that and chocolate too!
Dealing with Change without Going Up in Flames
Changes are coming at us at an overwhelming rate – new technology, increased job responsibilities, relationship changes. People are suffering stress and anxiety at higher rates than ever before. This seminar is designed to help attendees effectively handle change. They will learn a five-step process for dealing with change and will examine all the different styles people use in dealing with change. Change is inevitable – this session will help you keep your sanity!
Are You Working Too Hard? Or Not Hard Enough?
It's the eternal struggle – do we need to live in the moment or do we need to work for the future?  Eat the doughnut or the carrot?  Push the team harder or have a company picnic?   Pet a puppy or deal with tough issues?  In this thought-provoking session, you'll learn what made the Spartans so fierce and Socrates so wise and how to apply the best of both to maximize your success.  You'll learn:
¨ How to be more disciplined
¨ How to think more critically
¨ When to Spartan Up and when to give it a rest
Leaders will also examine if they need to be more Spartan or Socratic to get the best from their people.
Want more discipline and better thinking skills?   Molon Labe!*
*Spartan phrase – come and take them.  We'll discuss.
Communication
Generational ABZs
Just when you thought you were beginning to figure out Millennials, Generation Z is entering the workforce!  And with the labor market as tight as it is, we need them!  There are more generations than ever in the workplace, and it's harder to communicate effectively and understand each other. In this high-energy, often hilarious session, issues such as generational stereotypes, improving inter-generational communication, and leading different generations will be discussed, with an emphasis on Generation Z.  You'll also learn three things that will tell you more about a person than simply when they were born and why the generations are the way they are. It will help participants understand not only co-workers but also clients and family members. Understanding others is challenging enough, but the generational differences throw in a whole new twist. This session will help you succeed.
Becoming a Conflict Ninja
Let's face it, from time to time, we disagree.  Sometimes we disagree with random strangers; sometimes with people we supposedly love.  As long as humans have been hanging out together, we've had different opinions.  You say tomato, I say jelly bean.  It's just the way we roll.  So, is it bad, horrible, to be avoided at all costs?   Conflict can actually produce better results.  Customer complaints can lead companies to up their games.   But you have to know how to make the most of it.  This session helps!
1.) You begin by determining what you focus on in conflict.  Some focus on logic and victory; others on feelings or justice or consensus.
2.) You recognize which of the 18 destructive responses you tend to have when there's a difference of opinion.  Here are a few: belittling, drama, defensiveness, exaggerating, excluding, caving in, sarcasm, passive-aggression.
3.)  You learn techniques to respond differently and to understand others' destructive responses.  Part of the program is identifying and dealing with automatic thoughts and knee-jerk reactions.  (You'll be surprised how much insight you'll gain.)
4.) You become aware of the conversation you're having and the one each of you thinks you're having.  Maybe you think you are asking for clarification and the other person thinks you're saying they're stupid.
5.)  You rock the conflict by responding productively.  The session covers 16 productive responses that can defuse situations and help us hear each other.  It includes videos to demonstrate when a conversation went off the rails and what could have been done about it.
Few of us have the tools to make conflict productive rather than destructive.  This session will change that.
How to Communicate with Everyone Who is Not You
Life would be so easy if everyone we interacted with was just like us. They would understand our cryptic e-mail messages, forgive our bizarre text messages, and understand why we unfriended them on Facebook. There would be no hard feelings, no conflict, and clearly, world peace. Unfortunately, no one else is exactly like you and to succeed in life and business, you have to work with the crazy, the angry, the silly, and yes, even the smarter and more articulate. This session will help you do just that. You will learn about barriers to communication and how to remove them. You'll get tips on defusing hostile people (especially helpful for those in customer service or divorce court). You'll take a communication styles quiz and find out just how different a large portion of the world really is and how to get along with them. There will be tips on technology and how to be more effective when using it to communicate. And you'll even improve your listening skills (not that anyone has better ideas than you, but they might have more information). People won't stop being crazy, but this session will help you stay sane.
Increasing Your Personal Power for Women
The fine line between being effective and being perceived as a witch is one that women must contend with. This seminar is designed to help you be effective and get what you want. You'll learn 15 power tactics that work for women, 10 things that weaken women both professionally and personally and how to avoid them, and you'll develop your own plan for increasing your power immediately.  Stop waiting to get what you want and start making it happen!
Leadership
Setting Your Followers on Fire!
This session opens with a discussion of the traits great leaders possess.  Then we move on to the common mistakes that leaders make (micromanaging, failing to define expectations, criticizing rather than coaching and more) and how to avoid them.  Then we get to the juicy stuff – what really motivates people (let go of Maslow's Hierarchy – we've got something better!).  If you want to get more from your employees, if you want to raise morale (without raising pay), or if you just want to be a better boss, this seminar is for you.
How to Lead Everyone Who Is Not You
If you aren't delegating and coaching, you're not leading.  These are two of the most difficult leadership skills to develop.  This session will help you with those as well as how to listen to your employees and how to hold an effective meeting. This is how real teams are built, by leaders who know how to use these skills. Also covered will be time and stress management so that those in charge can get the most they can from everything they've got.
Leadership Lessons from the Kings of Chocolate
To be a better leader, one should learn from the best.  Milton Hershey, Forrest Mars, Henri Nestle and several other chocolate makers built huge empires and they didn't do it alone.  With dramatically different leadership styles, all built tremendously successful companies.  Attendees will learn what they did that worked, what didn't, and how to adjust their own leadership style to get the results they want.  Participants will also review case studies of smaller chocolate operations – some that made it and some that didn't.  The case studies will help them improve both their leadership and your business practices.  And, of course, there will be chocolate involved!  They can become better leaders AND eat chocolate – what could be better?
How to Be an Effective Board Member
Many business people serve on the boards of nonprofits, but don't receive adequate training. They want to serve well, but often don't know exactly what is expected of them. Attendees will learn why nonprofit boards exist, the ten basic responsibilities of nonprofit boards, the difference in the roles of board and staff, and the legal aspects of board service. Tips on fundraising and leadership are also included. Presenter Denise Ryan holds an MBA and has ten years of nonprofit experience.
Customer Service
It's All About Customer Service
Customer service either makes or breaks a business. If you aren't taking care of your customers, your competitors soon will be. Attend this high-energy session and improve your skills in dealing with customers (and people in general!).  We'll have an informative (and hilarious) discussion about the importance of body language when dealing with customers face-to-face.  Some of the key things you'll learn include the five things customers want, how to deal with problem customers and ten things you should NEVER say to a customer! Be prepared to have a great time learning how to take better care of your customers.
This session can be highly customized based on your needs.  Don't assume your people are delivering great service just because they've been with you for a long time.  Let's get them re-energized about delivering outstanding service!
Innovation
Stop the Insanity! How to Be More Innovative
Albert Einstein defined insanity as doing the same thing over and over again and expecting different results. The world has changed radically in the last several years – has your company? Have you?
This provocative think tank/workshop will get you thinking about game changers for your work and your life. Some of the topics covered:
• How to be innovative (almost 2 dozen ideas)
• Breaking down barriers to innovation
• Myths about innovation
• Fear of innovation/change
This is a great session to help participants think in new ways and generate new ideas. It also forces leaders to consider how innovation is fostered (or not) in their organizations.
Stress & Time Management
Overloaded, Overwhelmed, and Over It! Strategies to Reduce Stress
Unless your kids move out of the house, your boss expects less, or you win the lottery, the demands on you are not going away anytime soon.  Do you find yourself angry, tired and frustrated?  Is your life feeling more like a struggle than an adventure?  If so, this session is for you.  We'll discuss many of the causes of stress and how to deal with them.  You'll take a quiz to find out just how stressed you are.  Then we'll cover everything thing from ways you can think differently to action steps you can take immediately to reduce your stress.  You'll leave with a customized action plan to help you succeed in a world of ever increasing demands.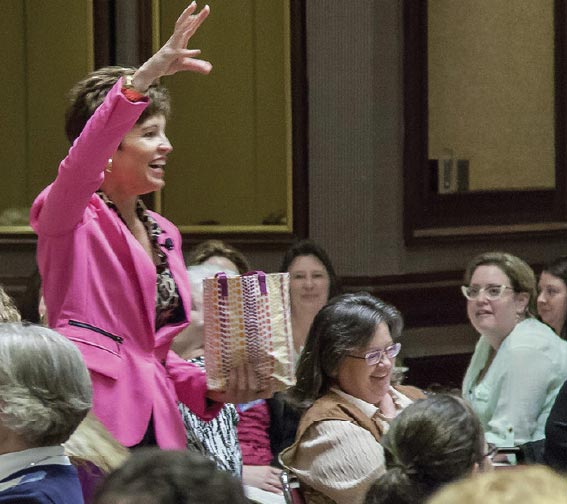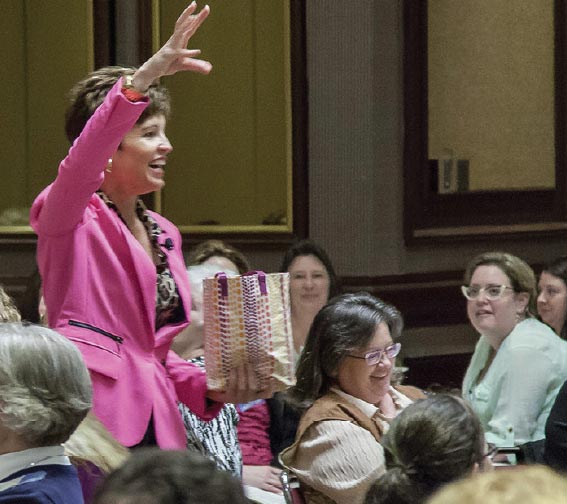 Denise firing up the crowd at an administrative professionals event.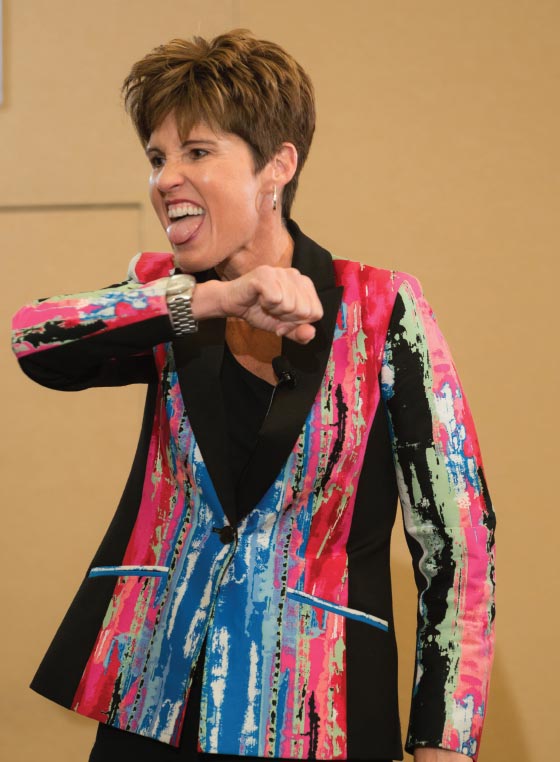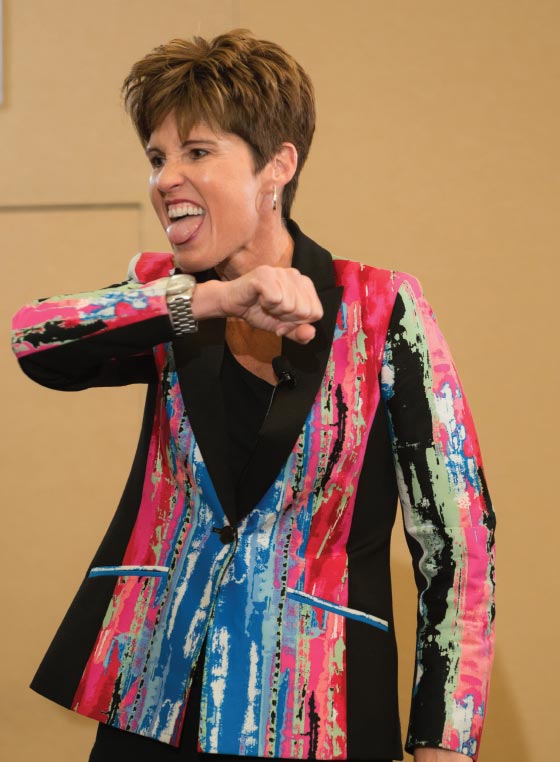 Having fun at a corporate awards program.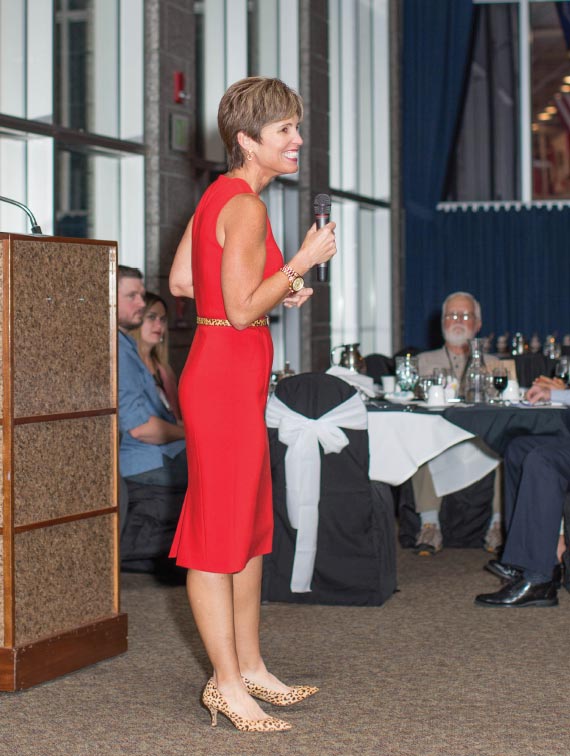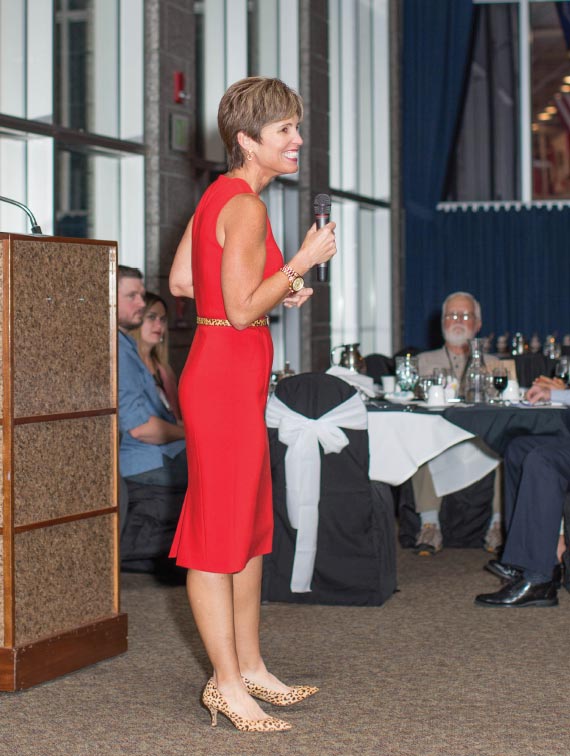 Denise delivering her message for a financial services firm at the base of Mt. Rushmore.