Client Comments
Client Comments
"I just wanted to let you know how fantastic you were at the Sales Conference in San Diego. I have been in Sales & Marketing for over 25 years and have heard and seen some really good speakers and presenters. I have to say, you were one of the best motivational speakers I have ever personally heard. Your presentation on enthusiasm was excellent, it was motivating, uplifting and downright entertaining and let me not forget funny as all get out."
"Thank you for relighting my flame………"
Gina Burnett, Membership Representative
Los Angeles Area Chamber of Commerce
——————————————————————————–
"Thank you so much for the BEST training session we've ever had for customer service week.  You are so much fun and all our employees are still raving about the training.  They are already asking for you next year!"
Sandra Hicks, Director of Member Services
Blue Ridge Energy
——————————————————————————–
"Thank you for being so inspirational at the Lead SC Summit.  If I could describe your presentation in one word, it would be "wow!"  Thank you for sharing your success and failures.  I feel many leaders try to sugarcoat, but your openness made you seem more real, so I thank you. You are full of life and your happiness is contagious.  I am so thankful you were our opening keynote speaker!"
Anna Grubic
Lead SC Participant
——————————————————————————–
"You did a terrific job at our Clerks conference.  Your presentations were "spot on."  You have a nice, easy delivery and make learning fun.  The day just flew by!  Thank you so much for joining us at the Region III Meeting.  You were the highlight!"
Jeanne Giblin
City Clerk
——————————————————————————–
"I want you to know how much we all enjoyed our day with you.  It was a great investment on our part with a terrific message delivered."
"I applaud your delivery."
Douglas Constable
CEO, AccuMED
——————————————————————————–
Denise will knock your socks off!
Not only is she an energetic, entertaining and knowledgeable speaker, she's also a pleasure to work with in the planning stages of an event. If you've worked with event planning and speakers, you know that's not necessarily an easy combination to find.
Denise was the keynote speaker for the Cabarrus Regional Chamber's 2015 Women's Conference and we've heard a constant refrain of "She was GREAT!" and "Be sure we get her back for next year!" She was very helpful in our discussions prior to the event and delivered an exceptional message that was practical and easy to put into practice.
I highly recommend Denise Ryan!
Tracey Browning
Chair, Cabarrus Chamber's Women's Conference
——————————————————————————–
"I've heard a lot of speakers all over the country and I would say that Denise Ryan is the best I've ever heard. She was so energetic, engaging, and entertaining. The information was so relevant and everyone walked away feeling like they could implement some of the tips that she gave us. I would hire her again and again!"
Rhonda Aherron
Womack Electric Supply
——————————————————————————–
"Denise spoke at our 2015 Administrative Professionals Conference and was exceptional. She is a great speaker and will keep your group involved.  She delivers a very useful message and is very uplifting. She will keep you laughing and wanting more. I would highly recommend her!!"
Janet Davis
Wake Forest School of Medicine
——————————————————————————–
"I really want to thank you for the enormous impact you made on so many that day, including myself. Even though you were only with us a short amount of time, you gave us tools we can use a lifetime. I am truly changed by my interaction with you and I am so thankful that our lives intersected even if only for a moment!"
Tara Copeland
Nationwide
——————————————————————————–
I wanted to pause and say "Thank You" for the wonderful presentation to the ASCLD/LAB group last week. I had a number of people comment to me about how much they enjoyed your presentation, how relevant it was to their interactions with people and how having a speaker of your caliber made them appreciate our meeting even more than usual.
John Neuner, Executive Director
ASCLD/LAB
——————————————————————————–
"Denise was FANTASTIC!!! You couldn't have recommended a better speaker!"
Melissa Hazelwood
Corporate Social Responsibility Coordinator
Ferguson Enterprises
Sent to Mike Frank, Speakers Unlimited Speakers' Bureau
Melissa went on to say: "Denise has a magnetic personality, uses humor and personal stories, and grabs the audience's attention immediately.  Her speech was highly applicable in the workplace but also in personal life."
——————————————————————————–
"…The results are in and they are GREAT! Your average rating from the survey results was 4.88 out of 5. This is the highest speaker score we have ever had. I have attached all the comments made from the attendees for your review. They were anonymous surveys so I can't tell you who it was that wants to marry you 🙂 .  Thanks for your outstanding work…"
Gino Fiorucci
Chief Executive Officer
ISB Canada
——————————————————————————–
"… I was in your seminar: "How to Work with Everyone Who is Not You." I brought my workgroup from the Greensboro Coliseum – about six of us. I must say that of the many, many times I have heard this topic discussed over my 30 years in business, your lecture was without a doubt, hands down, the best. You did a marvelous job of not only helping everyone understand their communication styles and how they receive/process information, but also telling us how to use this information in a practical way to improve our relationships throughout the Coliseum."
Carl E Deckard
Business Office Manager
Greensboro Coliseum Complex
——————————————————————————–
"…WOW!!! What a dynamic presentation! You really have a unique, entertaining style and your timing is priceless! Thank you from the bottom of my heart. I can say, without reserve, that everyone enjoyed you immensely and received a new perspective on customer service to boot. Myrtle, our guest accountant, came to me this morning and said, 'You've GOT to get Denise back here! I don't care WHAT she is training!'…"
Sue Head, Personnel Director
Sun Realty of Nags Head, Inc.
——————————————————————————–
"…You were fabulous! From the moment you started, you had everyone's attention. I enjoyed scanning the room to see the varied personalities, all reacting well to you. Your presentation was direct, convincing, funny, and informative. I found myself reviewing my own behaviors and identifying those that I needed to change or improve. We are scheming about ways to get you back!…"
Allen Peterson
Hospitality Mints
——————————————————————————–
"…Yesterday I attended a presentation by Denise – I LOVED HER! She has that "polished" look (for professionals) but yet she was so realistic (down to earth). I have raved about her to my associates…she could also be a stand up comedienne. As she would tell her "stories"….I could readily identify with her…."
Deborah Brown
LifeSpan
——————————————————————————–
"…I have been attending seminars such as this for 20 years and have never been as impressed with a presenter as I was with you…"
Barry Amburn
Cannon & Company
——————————————————————————–
"…our business tends to be a negative one and enthusiasm is difficult to find. However, your dynamic presentation started a chain reaction at our institution…"
Larry E. Whitman
Federal Bureau of Prisons
——————————————————————————–
"…Everyone present valued your wealth of experience, your thorough instructional preparation, and your skilled delivery. Looking forward to using you again in our service area…"
Alice S. Tingle
Small Business Center
Lenoir Community College
——————————————————————————–
"Wow, they absolutely loved you at CNA Conference!  Some of the best evaluations I've seen in a long time and many of them said "bring her back"!  I'm planning on figuring out how to get you back here for some other events…."
Linda J. Stanton, MHS, BSN, RN
Associate Director, Nursing Education
Mountain Area Health Education Center
——————————————————————————–
"…I was particularly impressed with how you tailored your talk for the audience. All of your major points were supported with relevant examples and ideas directly related to symphony orchestras. I'm certain this made your presentation all the more useful to the participants…"
Andrew H. Ziegler, Ph.D.
Methodist College
——————————————————————————–
"I wanted to personally thank you for attending our conference at Wild Dunes in South Carolina.  Your topics and enthusiasm were exactly what our association needed.  As chairman of the Highway-Heavy Division, we sometime struggle with speakers and topics and this time you nailed it.  Your delivery was especially inspiring and several of the attendees were blowing open a fist at me later in the day, so I thank you for that.  Keep the flame, stay in touch and we'll look forward to seeing you again."
Ronald P. Shaw, President
Lee Construction Company of the Carolinas, Inc.
——————————————————————————–
"…I wish I could keep you in my pocket and have you with me all day. You are encouraging and motivating and always know just the right thing to say and do. You are my inspiration…….you are AWESOME!"
Diana Reyes
Small Business Center
Coastal Carolina Community College
——————————————————————————–
"…your presentation was by far the favorite of everyone there. I have already received 5 phone calls just thanking me for arranging the meeting (That is a FIRST!)…"
Melissa W.
Hard Rock Cafe
Myrtle Beach, SC
——————————————————————————–
"…thank you for giving us one of the brightest "Town Meetings" we have ever experienced! Your presentation was fantastic, and your enthusiasm is most definitely contagious!…"
T. Sykes
United Guaranty Corporation
——————————————————————————–
"…I have attended many training classes and that is definitely one of the BEST! We appreciate Denise for her contagious enthusiasm. I definitely made some mental changes effective immediately as a result…"
Nancy Bishop
Director of Human Resources
The Encore Group, Inc.
——————————————————————————–
"…I can't find the words to describe what a fantastic and excellent job you did in presenting the training for our leadership staff. Your delivery, the approach you used – you hit on all the key areas I wanted you to touch on – you did a fabulous job!"
Annie Ward
Wilson Department of Social Services
——————————————————————————–
"…You captivated the audience with your personable manner, professionalism, interesting anecdotes, and real-life experiences. We have heard an overwhelming number of positive comments about your segment of the conference. I appreciate the way you immediately connected with the group and shared ideas that can be applied in both their work and personal lives…"
Audrey Williams
Manager of Training and Development
NC Association of Electric Cooperatives
——————————————————————————–
"…I just received the conference evaluations which included one statement for each presenter: "The presenter was knowledgeable and professional" with options for Strongly Agree, Agree, Neutral, Disagree, Strong Disagree. The problem is that for you, I should have added the option, "walks on water…." You were well appreciated at the conference. Thanks!!…"
Jean Marsh, Ph.D.
Director of Workforce Development
Cape Fear Community College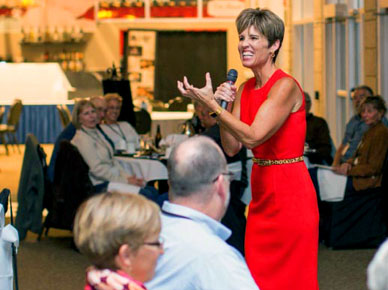 Denise gets an audience fired-up and ready for a corporate event.
In their 2015 poll, Meetings & Conventions magazine asked meeting professionals,
"Who is the single best speaker you have heard in the past two years?"
Here are some of the names:
George W. Bush
Condoleezza Rice
Bill Clinton
Daniel Pink
Anderson Cooper
Patrick Stewart
Diana Nyad
And Denise Ryan!!!!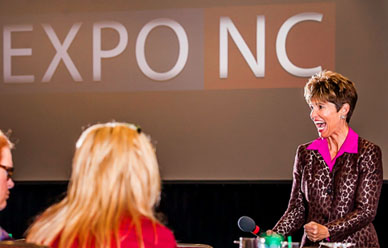 Denise brings enthusiasm to the EXPO NC conference.